Rising Stars: Wise Words from Women of Focus
In the spirit of Women's History Month, this blog is part of a Women in Technology (WIT) series honoring women doing amazing work across technology roles and organizations. As we move towards WIT's May 11, 2017 Leadership Awards event, we are featuring real life stories and insights of women who are rising, leading, and paving the way.
Shining a light on women at all stages and in a variety of roles in the technology industry is part of what we cultivate at Women in Technology. We take our our mission seriously to walk with women "from the classroom to the boardroom." That's why, in addition to honoring pillars of industry in the DC region, like Kay Kapoor of AT&T, we also shine a light on women who are carefully and methodically working hard and working their way up, showing great successes early-on in their career journeys.

Camille Stewart and Maria Sasinowski are two of those young women.

Camille, the 2016 Leadership Awards Rising Star Winner learned early on that titles matter less than the potential she had for game-changing work. Once she began doing work about which she was passionate and found a niche to be filled, the accolades, growth and impact followed.



Maria, one of our 2016 Rising Star finalists, knows a thing or two about stepping outside her comfort zone.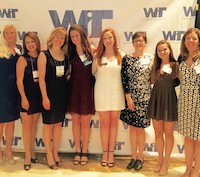 With fresh eyes, untainted by "this is how we always do things," Maria shares how innovating, fixing broken processes, and taking calculated risks have served her well. Not only does her approach create needed change, but it demonstrates inherent leadership capacity for identifying new ways to fix old problems.



In the days and weeks to come we will share our whole new crop of Leadership Award finalists and their insights on success.
Share this post: