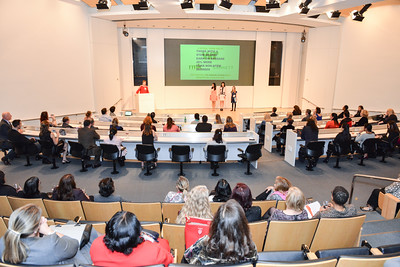 Girls in Technology (GIT) is led by an all-volunteer committee of Women in Technology (WIT) members who are dedicated to initiating programs designed to excite, inspire, create awareness and educate girls in grades 6 through 12 about the vast array of career opportunities in the fields of Science, Technology, Engineering and Math (STEM).

GIT programs reach over 500 girls in the DC metropolitan area. Our programs help girls identify pathways to careers in STEM through engagement with professional women in STEM-related fields and STEM experiences provided by companies in the District, Maryland, and Northern Virginia.
This year, GIT is excited to offer their programs in 100% virtual formats, using innovative technologies to connect girls to professional women and each other as they learn about and explore possibilities in STEM fields.

Girls in Technology programs are made possible through the generosity of corporate sponsorships and STEM for Her. Program speakers, mentors and committee members volunteer their time to make a difference in the lives of the future generation.

Our Programs Include:
Girls in Technology Mentor Protégé Program
Girls in grades 9 –12 are selected from applicants around the metropolitan D.C. area to attend monthly sessions designed to support networking, personal and career development and one-on-one mentoring with female professionals.

Girls in Technology Sharing Our Success (SOS) Program
One-day evening workshops (for girls in grades 6 –12) includes networking games, hands-on demonstrations, door prizes and women speakers who discuss experiences of combining their love of STEM with passions such as art, geography, science, education, and security.

Girls in Technology Cyber Patriot Teams
 In partnership with the University of Maryland, GIT sponsors CyberPatriot Girls, a program to support middle and high school girls' involvement in the Air Force Association's CyberPatriot program (www.uscyberpatriot.org). CyberPatriot is the premiere national high school cyber defense competition and was created to inspire high school students toward careers in STEM disciplines critical to our nation's future.

Girls in Technology Scholarship Program
Thanks to the generous funding received from STEM for Her (SFH), GIT's Scholarship Program provides STEM education scholarships to metropolitan D.C. area girls in grades 9 to 12 who participated in GIT's programs during the current school year. STEM Education Camp Scholarships and Higher Education Scholarships help enrich students' lives and encourage STEM careers by reducing the financial barriers to participate in STEM-related extracurricular activities or higher education for careers in STEM fields.





Girls in Technology Seven Core Beliefs
Through our programs, Girls in Technology helps girls develop and maintain values for achieving personal and professional success based on GIT's 7 Core Beliefs.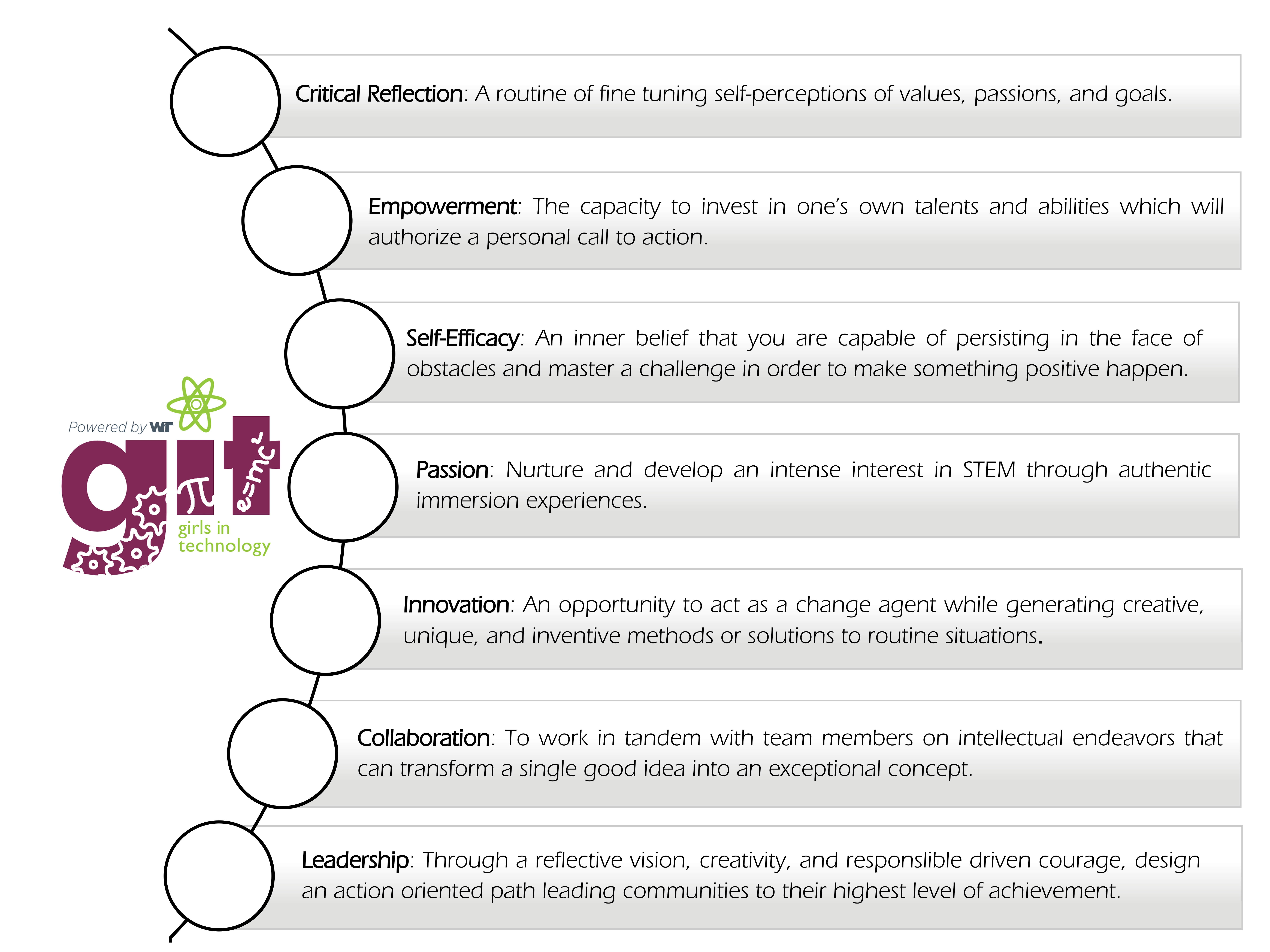 There are many ways to get involved!

We are seeking amazing women who want to make a difference for our #GITgirls as volunteers to assist in development, execution and administration of GIT Mentor Protégé, Share Our Success, Cyber Patriot Girls and Scholarship Programs. All are currently remote work.

GIT also seeks volunteers to serve in the following roles (also remote work) which support all of GIT's programming: 
Social media and communications
Volunteer recruiting and placement
Program content and materials development
Speaker sourcing
Data / Survey analysis
Leadership
Girls in Technology Program Chair
Shelley Brown-Philips
[email protected]

Girls in Technology Program Vice Chair
Dee Nickerson
[email protected]

WIT Board Member at Large, Emerging Leaders
Kathi Hanrahan
[email protected]
Thanks to    for funding all Girls in Technology Programs!
Save
Save
Save
Save
Save
Save
Save