Digital Automation - Love it or leave it, it is here to say!
Last week I attended my first major WIT event – WIT Connect. I was excited because the topic was close to my heart. I work with emerging technologies and too often I hear the apprehension about adopting some of them – machine learning, artificial intelligence, advanced analytics etc. I was curious to know more about how organization heads like KPMG's Kirke Everson, who leads the intelligent automation practice for government, are handling it.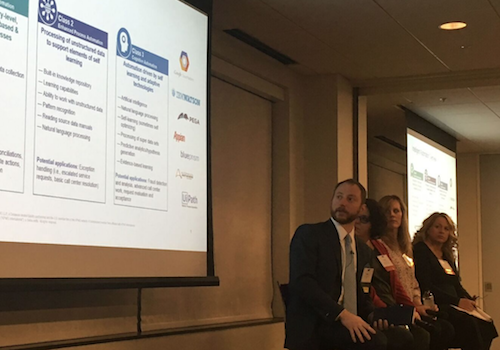 The panelists brought in different perspectives – from use cases implemented in US Department of Health and Human services to how intelligent automation impacts employee engagement and change management inside large enterprises.

At the end of the session, the audience posed a variety of questions ranging from the ethics of implementing some of the solutions to cyber-security and safeguarding this information.

Here are five major takeaways I got from this session:
Triggers that set off adoption of Intelligent systems:



Henry Ford famously said, "If I had asked people what they wanted, they would have said faster horses."

Hence, adoption of intelligence systems like AI, machine learning etc. is also triggered by the fact that almost all organizations – enterprises big and small, government agencies, non-profits etc. are dealing with increased demand on efficiency and productivity with minimal budgets. This has led to the adoption of intelligent systems and solutions that meets these demands.

For example,

The National cancer institute provides therapy to patients through chatbots.
US government has petabytes of data that can be used effectively for various purposes. For e.g., center for disease control can provide voice based searches.
Another major trigger point is employee satisfaction. Today's employees demand a high level of engagement in their day-to-day work. Employee surveys indicate that they would like to engage in activities that are fulfilling like building creative and innovative solutions using emerging technologies.



How digital automation address innovation:



With the increasing complexity of life, there is a need for innovative solutions to problems. The market also desires most solutions at their fingertips. Examples of the success of Uber and AirBnB prove that point. The decreasing cost of emerging technology has enabled the adoption of digital automation to quickly test and deploy a solution.

Intelligent automation increases the quality and effectiveness of the services. The experience of using a chatbot instead of a manual service provides the advantage of not only being faster but also provides a seamless experience and resolves more issues than humanly possible.

A good example is Emma, the virtual assistant used by USCIS.

Success of adoption depends on multiple factors:



Testing prototypes with users: Building prototypes and getting feedback from the users can reduce the risk of adoption of intelligent systems.
Design Thinking: The use of design thinking is on the rise to build innovative solutions. This involves using empathy to understand the customer's needs and then using tools like journey mapping to implement these creative solutions.
Marketing internally: Change management is a crucial factor to ensure successful adoption of digital automation. Ensuring that you have participation from grassroots level to the executive level will be an important step towards this success. Story telling can be a useful technique to send the message across internally as well as to convince the naysayers.



What does the future look like?



It is always interesting to speculate about the impact of digital automation and the future. Some interesting discussion points were:

Human life longevity: AI tools such as IBM Watson are currently being used to mine through vast amounts of clinical trials data to find a cure for cancer. This would increase life expectancy well beyond 100 years.
Telemedicine in rural areas: Areas in the mid-west as well as developing nations are increasing turning to technology to provide healthcare in the remote and inaccessible areas.
Open and transparent data: With the increased use of big data analytics, there is a need to make the data available to the general public. This would help in democratizing the solutions that can resolve world's challenging issues.
Career possibilities: Although some of the traditional manual and labor-intensive jobs would be replaced, it would also enable a different set of career possibilities.



Security:



In response to an audience question about the security risks of data, one of the panelists rightly stated "once you make your data publicly available, it is no longer your data".

Having said that, the government agencies have robust processes and procedures in place to safeguard the data. This sometimes acts as a disadvantage because it would take longer them to enable the adoption of newer technologies compared to the commercial organizations.


In summary, I totally enjoyed the vibrant and positive discussion around the adoption of intelligent systems that enable digital automation. The examples and use cases discussed provided a good insight into both government and commercial organizations' adoption of these technologies.

I look forward to attending the other upcoming WIT events.


My LinkedIn Profile – Swathi Young.
Share this post: