Girls In Technology's Sharing Our Success
Saturday, November 21, 2020
,
11:00 AM
-
1:00 PM EDT
Category: Girls in Technology
---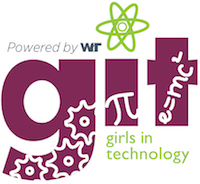 The Sharing Our Success program is designed for girls in grades six through 12. The goal of the program is to generate awareness and to nurture girls' interest in Science, Technology, Engineering, Art, and Math (STEAM).

This SOS event offers girls an opportunity to talk STEAM with exhibitors from local organizations, universities and companies. Girls will be able to ask questions of exhibitors such as "What do the STEAM professionals in your organization do on a day-to-day basis?" "What education and background does your organization look for when deciding who to accept or hire?" "How does your organization support girls who are interested in STEAM careers?"

The SOS will also allow girls an opportunity to meet and network with professional women who have turned their love for technology into successful careers in these fields. Students will participate in an interactive panel discussion with distinguished women in Science, Technology, Engineering, Art, and Math.

The SOS program is free for students and is made possible by STEM for Her and the generosity of corporate sponsors such as Verizon!
---